Smell 'E' Vans
Submit By : Joe =
Smell"e"vans is an Malaysian hard rock band from frasers hill. The band was formed in 2010. It consists of Ameerul (lead vocals, rhythm guitar), Apple (lead guitar,background vocals), Jijie (bass, 2nd vocals) and Kecik (drums, background vocals). They are influenced by 70s and 80s rock bands, for instance, ac/dc, motorhead, deep purple, judas priest, alice cooper, led zeppelin, diamond head and many more. the band has released their first EP (take me higher) on 2011 with five songs, ("wild", Take me higher, Tiada sudahnya, Miles of boring highway, and Derita budak pinggiran)….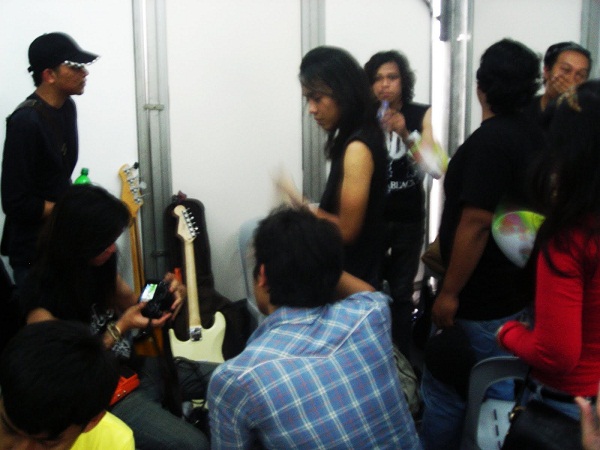 Smell'e'vans adalah sebuah band dari bukit fraser yg memainkn musik rock/hard rock/rock n roll..dipengaruhi dari band2 rock seperti deep purple,black sabbat,alice cooper,led zeppelin dan sebagainye..mula menubuhkan band pada pertengahan 2010..dianggotai oleh ameerul sebagai vocalist,apple sebagai guitar utama,kecik sebagai drummer dan jijie sebagai bassist..smell'e'vans telah mengeluarkn ep pertama mereka berjudul "take me higher" yang mengandungi 5 lagu..terdapat 3 lagu berbahasa inggeris dan dua lagu berbahasa melayu..
Download: Smell 'E' Vans Profile
Hometown: Kuala Lumpur, MY
Genres: Rock / Hard Rock / rock n roll
Members: ameerul(vocal),apple(lead guitar),kecik(drum),jijie(bass)
EP Take Me Higher(2011)
songs:
1."wild"
2.Take me higher
3.Tiada sudahnya
4.Miles of boring highway
5,Derita budak pinggiran (feat.shasha skyhigh)
Stay tuned here, they have some stuff in the works for you!!
FACEBOOK
www.facebook.com/smellevans
PUREVOLUME
www.purevolume.com/smellevans
MYSPACE
www.myspace.com/smellevans
YOUTUBE
www.youtube.com/zyzk
for booking :
+6017 384 0954 (zaid)
+6012 688 8973 (amin)