Blastbuzz!! new slot 4 new n old band in MP!! Introduction.
Submit By : NiCexx =
Blastbuzz ni apekehelnye erk?? perbende plak? mesti korg tertnyn2 pe la fungsi bende nih. ok biar aku story sikit. kalian mesti sudah sedia maklum dengan kebanjiran band-band baru dan lama dalam negara kita ini. Terlalu banyak sangat dan ada yang minta tolong kami untuk pomot band diorg ( dan setgh tu kami wat ngan rela hati hahahaha). so atas keprihatinan kami, kami bukak satu slot khas tuk band-band baru dan lama dr seluruh pelusuk malaysia dr pelbagai genre. Setiap minggu kami akan mempekenalkan 3 buah band dr 3 buah negeri yg berbeza dan genre2 yang berbeza. Sebagai pembuka tirai slot yg pertama ini, aku mempekenalkan 3 buah band iaitu
Gelora Nafsu, Proclaim My Victory dan Fly O Jet.
GELORE NAFSU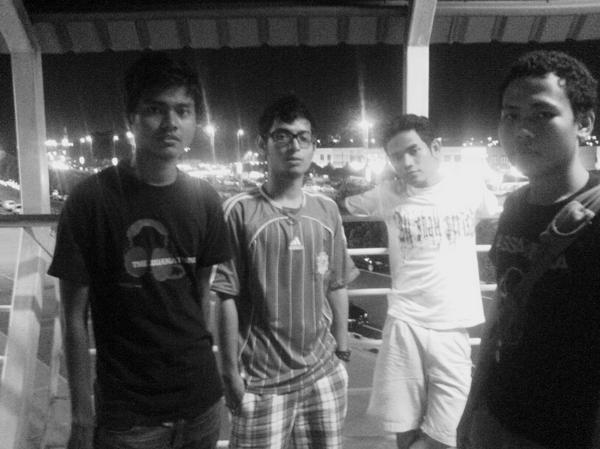 Info Band Gelore Nafsu
We are a band from Tampin/Malacca, est. 2008. We sound like tech/grind/noise/experimental/jazzy/fuckinglam, you get the idea. It's about our passion to share our sounds & our words…shout 4 fuckin faith, without any fuckin discrimination in whatever scene and sound that we'll go through…we share, and we dance.
genre
Grindcore / Experimental / Glam
line up
Huzai – Vox
Syafiq – Guitar
Aizat – Bass
Khalis – Drums
for any info, gig/event:
012-9156180 (khalis)
017-5331711 (syafiq)
http://www.myspace.com/gelorenafsu
Info Band Proclaim My Victory
PROCLAIM MY VICTORY was formed on December 2008 by MADI( 2nd guitar),TAPA(drums),ASH(voc) and AKEM(1st guitar) after our previous band has been ripped due to certain problems.PROCLAIM MY VICTORY,the name itself,was inspired by Madi which mean that PMV-ians will claim their passion in this scene with this new band.Soon after that,WAN'd(bass) and EIRA(voc) has joined the band.During early stages,we are still struggle with the line up probs and chosing the right sound to play.But we still gave our best in the scene and showed our passion through several gigs in Malacca,KL and JB.Consequently,EMON(keyboards) has joined us and PMV finally has a complete line up.Influenced by blessthefall,eyes set to kill,devil wears prada etc,we started to create our own sound which had led into a combination of screamo/hardcore/metal.Our ep had been launch!!!Get it from us now!!!
genre
Screamo / Hardcore / 2-step
line up
Ash – lead-vocal/scream
Iera-vocal/scream
Akem – 1st guitar
Madi – 2nd guitar
Wan'd – bass
Emon – keyboard
Tapa – drum
for any info, gig/event:
http://www.myspace.com/proclaimmyvictory
Info Band Fly O Jet
Fly O Jet???
start at 2008 dan bermain lagu jenis punk lagu kami beceritakn tentang kehidupan harian music yg kami sampaikn adalah dari music scene punk!!! kami bnyk mendengar lagu ramones,sexpistols,exploited,casualties,gbh tetapi kami bermain mengikut kesukaan kami sendiri lagu kami sampaikan dgn cara kami sendiri Fly O Jet???
support la local act !!!!!!!
Genre
Punk / Rock
Line Up
Akiem (voxx)
Tobek (guitar)
Mieju (bass)
Ahchai(Drum)
for any info, gig/event:
http://www.myspace.com/flyojet