Orange In The Wood (OiTW)
Submit By : Joe =
Biodata Orange In The Wood (OiTW)
Adalah sebuah kumpulan muzik yang mula bertapak dari awal tahun 2011, bergerak secara bebas atau lebih dikenali sebagai indie band (INDEPENDENT). Kumpulan yang berasal dari Klang dan Shah Alam ini terdiri dari 5 orang anak muda, Aifaa Rizwan selaku vokalis, Ewan (Grey Sky Morning) selaku Gitaris, Joe (Sonic Mush) selaku Gitaris, Nish selaku pemain Bass dan Ayit (Sonic Mush) selaku pemain Drum.
Karya dari segi penulisan lagu & susunan muzik disusun dan dicipta oleh OiTW sendiri. Dengan mempertaruhkan
muzik bergenre Pop dan Universal, OiTW cuba untuk berada pada sesuatu tahap di dalam arus persada seni Malaysia
dengan hasrat karya muzik OiTW berkembang melalui arus muzik tanah air disamping penerimaan dari pelbagai lapisan masyarakat, begitu juga pandangan OiTW pada Negara luar Malaysia berusaha secara perlahan-lahan untuk
melebarkan kekuatan band ini diluar sana.
Dalam masa terdekat ini, OiTW juga aktif membuat persembahan di setiap sirkit – sirkit GIG, Showcase di seluruh
Malaysia. OiTW secara asalnya mempersembahkan muzik secara kugiran akan tetapi kebanyakkan persembahan OiTW lebih tertumpu pada versi akustik yang secara tidak langsung OiTW ini mempunyai variasi di dalam muziknya kerana setiap versi ini mempunyai kelainan yang mungkin mempengaruhi pendengar.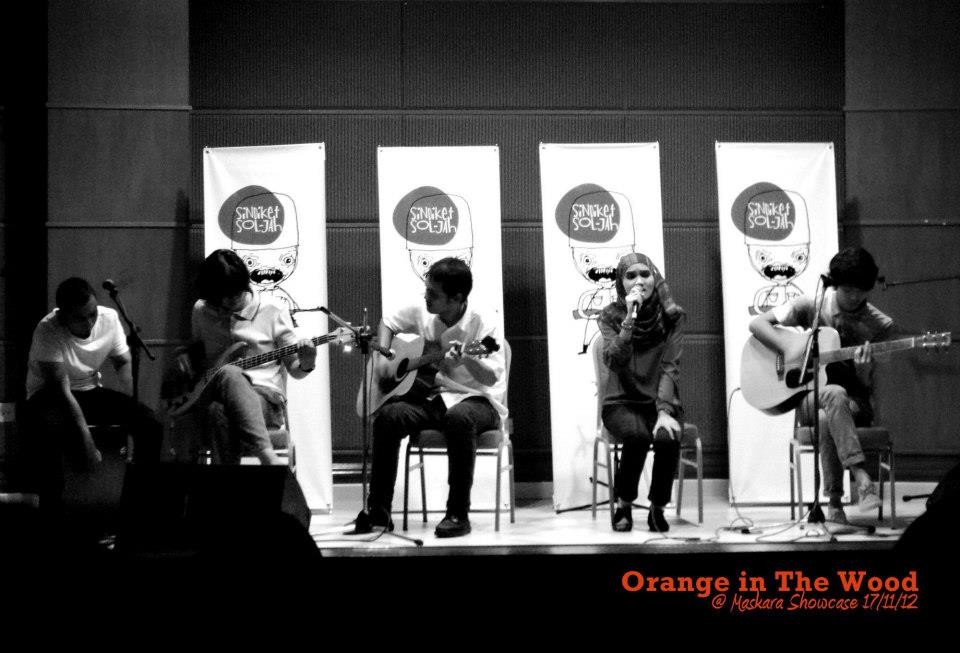 "Bebas untuk berketerampilan membawa pelbagai jenis alunan muzik. Koyak & rabak sudah pasti dijahit dengan boldan goldan tiungan tali gresek major D. Misi membaik pulih energi halwa telinga pendengar untuk mendengar alunan yang lebih abstraktikal dalam cara yang lebih ringan dan tak
masuk akal."
-Orange In The Wood
MATERIAL & DISCOGRAPHY
Orange in The Wood juga telah merakam video dua buah lagu versi akustik melalui MCBTHFVR iaitu CINTA dan TERBANG yang berjaya diterima oleh pendengar-pendengar Malaysia melalui Youtube.
Cinta : http://www.youtube.com/watch?v=gN9LPJuG2nc
Terbang : http://www.youtube.com/watch?v=6ZeROWAYxPw
Kedua-dua lagu ini mempunyai kelainan dan merupakan cara OiTW bermain muzik dari aspek konsep genre yang di bawa. Penilaian untuk kedua-duanya bagi OiTW sendiri untuk masa ini banyak membawa OiTW bergerak secara berperingkat melalui penerimaan pendengar dan kemahuan penganjur.
OiTW juga turut mempertaruhkan juga lagu seperti Sendirian, Wajah Karma dan Biarkan. Kesemua lagu – lagu ini termasuk di dalam DEMO OiTW yang bakal dikeluarkan dalam jangka masa terdekat.
OiTW sudah dalam perancangan untuk merakam DEMO album yang mempunyai beberapa trak lagu & kesemuanya digubah oleh OiTW sendiri dengan kerjasama dari rakan-rakan dan keluarga sebagai lambang menyokong OiTW
ke arah muzik yang berkualiti.
Band Members
Aifaa Rizwan – Vokal
Ewan – Gitar / Vokal
Joe – Gitar
Nish – Bass
Ayiet – Drum / Vokal
Sessionist:
Faiz – Drum / Perkusi
Maklumat Lanjut
https://www.facebook.com/oitwband/info
Twitter https://twitter.com/OrangeInTheWood
Press Contact 017-3786871 (Orange In The Wood -PR)
Booking Agent oitwband@gmail.com