Laguna Music 10th Anniversary Celebration Party.
Submit By : Joe =
October 2012 marks the 10th year anniversary of homegrown music label, Laguna Music. In conjunction with this memorable event, Laguna Music will play host to a special 8-hour concert at Club Neverland this 4 November 2012.
Other than showcasing the record label's artistes, Laguna has invited a total of 16 bands that have made their mark in the indie music industry and each share their own experience working with Laguna Music over the years. Bands such as Prana, Blind Tribe, Subculture and Damn Dirty Apes will be making special appearances for this concert, with regular festival headliners Love Me Butch, SevenCollar T-Shirt, PureVibracion and Pesawat also included in the line-up.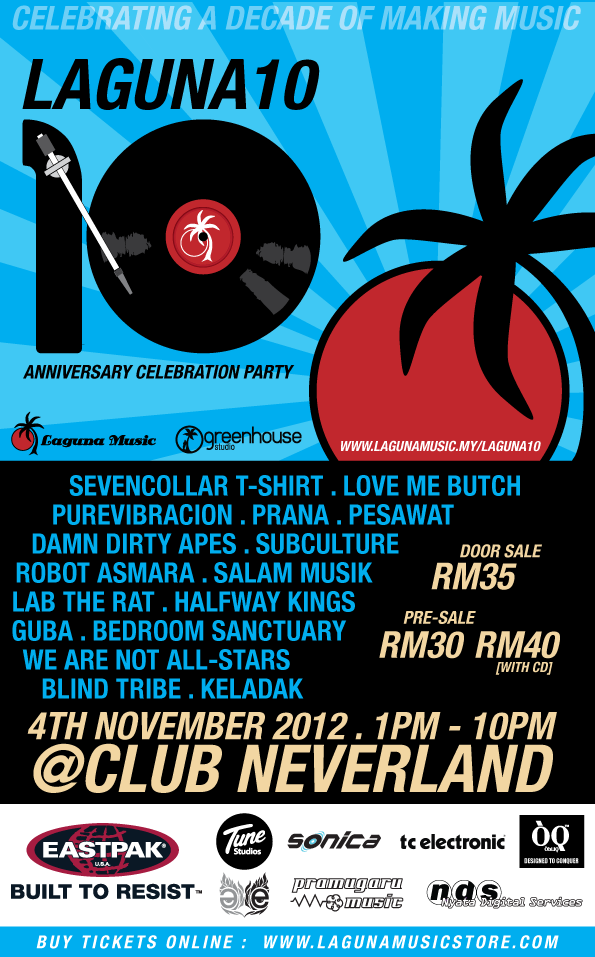 Tickets will be available online at the Laguna Music Online Store, www.lagunamusicstore.com (pre-sale) and at the door. For pre-sale tickets, patrons have the option of purchasing the tickets bundled together with a Laguna Music album at RM40* or tickets-only at RM30. On the day of the event, tickets will also be sold at the door for the price of RM35.
Leading up to the show, music fans are invited to follow Laguna's updates from their official facebook, (www.facebook.com/lagunamusic) and twitter (@laguna_music) accounts for additional info as well as details to the lucky draw contest.
Lucky draw winners will be given the privilege of winning special items from our event sponsors. Eastpak under World of Sports have come in as our main sponsor, giving over RM30,000 worth of prizes and vouchers to be given away, Tune Studios will be giving away RM5,000 worth of recording packages, and Wear Obliq will also be giving away prizes to those who attend the event.
* For those who wish to purchase the pre-sale ticket + CD package (RM40), kindly e-mail to store@lagunamusic.my with your details and choice of CD. The choices are Prana Greenhouse Effect, Prana Disc 03, PureVibracion Love & Peace, SevenCollar T-shirt The Great Battle, SevenCollar T-Shirt Drones, Estrella Estrella, Get This! Indie Compilation or Her… Compilation.
Date: 4 November 2012
Time: Event starts at 2.00pm (Doors open at 1pm)
Tickets: Pre-sale – RM30 / RM40 (with CD); At the door – RM35
Laguna Artists:
Prana, PureVibracion, SevenCollar T-Shirt, Lab The Rat, Guba, Halfway Kings.
Guest Artists:
Love Me Butch, Pesawat, Salam Musik, Subculture, Damn Dirty Apes, Blind Tribe, Robot Asmara, Bedroom Sanctuary, We Are Not All-Stars, Keladak.