Konsert Incubus Stadium Negara 23 July
Submit By : Joe
Incubus akan mengadakan konsert di Kuala Lumpur pada 23 julai ini bertempat di Stadium Negara Bukit Jalil. Konsert ini merupakan kali ke tiga kalau tak silap aku Incubus datang ke Malaysia lepas Sunburst 2008 dan beberapa tahun sebelumnya. Tune Talk adalah penaja utama untuk konsert kali ini dan harga tiket pon boleh tahan gak r hehe. Untuk pelanggan Tune Talk diskaun akan diberikan (RM183) berbanding harga tiket biasa iaitu RM203. Agak mahal r tiket tu, ada sapa-sapa nak sponser Malayapark tak. hehe. Jadi media untuk wat coverage ke? kalau dapat sponsor macam Disagree Album Launch hari tu kan best.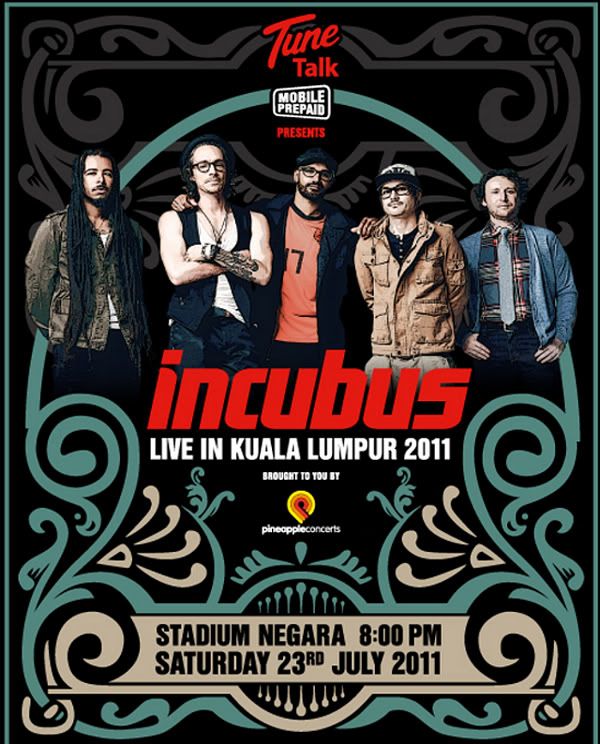 Incubus Live In Malaysia
Sedikit maklumat incubus dari wikipedia
Incubus is an American rock band from Calabasas, California. Formed in 1991 by vocalist Brandon Boyd, lead guitarist Mike Einziger, and drummer Jose Pasillas while enrolled in high school and later expanded to include bassist Alex "Dirk Lance" Katunich, and Gavin "DJ Lyfe" Koppell, both of whom were eventually replaced by bassist Ben Kenney and DJ Kilmore respectively.

Incubus has received both critical acclaim and commercial success, reaching multi-platinum sales, as well as releasing several highly successful singles. The band started branching out creatively and earned mainstream recognition with the release of their 1999 album Make Yourself. In 2001, Incubus became even more successful with the single "Drive" and their follow-up album Morning View. Their studio album, Light Grenades, debuted at No.1 in 2006 and has received Gold certification in the U.S. Incubus released their first greatest hits album Monuments and Melodies in June 2009, accompanied by a tour of the United States, Japan and Canada. The band recently completed a seventh studio album, If Not Now, When?, which was released on July 12, 2011.
Incubus – Drive