GBOB Challenge Malaysia 2009 (The Global Battle Of The Band)
Submit By : Joe
Aku baru dapat flyer ni daripada GBOB Malaysia. Mana-mana band yang mempunyai at least 2 lagu layak menyertai Batle Of The band ni. Detail ada kat Flyer .
Apa kebenda GBOB?
The GBOB Challenge is the world's biggest live talent competition for bands of all genres. We aim to find raw talent wherever it is and expose it to a wider audience! Starting in 2004 with 16 countries participating, 25 countries took part in 2006 and participation continues to grow in 2008 with 37 countries now involved. Every year Local Qualifying Heats and National Finals take place in participating countries around the world, with the winners of these going forward to World Final.
If you're a real band playing real music and can show you have what it takes live on stage, here's your chance to win a band development package worth over $100,000 and a special gold "Best New Band in the World" statuette!
Source GBOB Myspace : http://www.myspace.com/93546800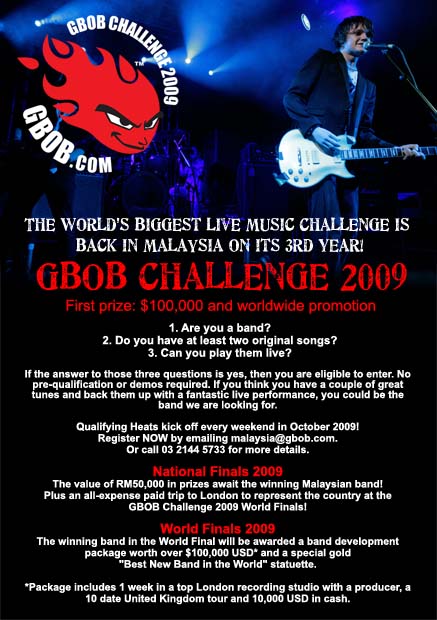 Download Flyer
GBOB Challenge Malaysia 2009
Qualifying Heats kick off every weekend in October 2009!
Register NOW by emailing malaysia@gbob.com.
Or call 03 2144 5733 for more details.